October 31, 2013 at 15:50 PM EDT
Dow Jones Industrial Average: Why A 10% Pullback Isn't A Sure Thing
INDEXDJX:.DJI, INDEXSP:.INX, NYSEARCA:SPY, NYSEARCA:DIA, DJI:DJI, CBOE:SPX, NQ:COMP, NY:XAX Related posts: Look For A Pullback Entry In The iShares Dow Jones Transportation Average ETF (IYT) Dow Jones Industrial Average, S&P 500: Sell In May and Re-Enter When? Dow Jones Industrial Average: Correction Looming On 3Q Results Why The Dow Jones Industrial Average Could Soar To 30,000 Dow Jones Industrial Average and S&P 500 Hit A Wall; What To Do Now
Chris Preston:  People have been forecasting a market pullback for months.
"How to Play the Pullback That's (Probably) Coming," CNBC wrote in March.
"Market Angst Pushes Stocks Into 'Pullback' Territory," a USA Today headline said in June.
Forbes insisted that "A Pullback is Coming" all the way back in February.
So far, all of them have been wrong.
The S&P 500 is up 24% year-to-date, establishing record highs on almost a daily basis of late. The index is up 41% in the last two years. And there have been very few hiccups along the way. It has now been 520 market days since the market has had a pullback of 10% or more.
That's a long time between corrections. But it's far from historic.
In fact, there have been two periods in the last 25 years that have dwarfed the current pullback drought. The record was from October 1990 to October 1997, when the S&P went a mind boggling 1,767 days without a pullback of 10% or more. To put that in perspective, this current rally would have to last until Oct. 1, 2018 without a 10% pullback to match that record.
The second-largest gap between corrections came in just the last decade. From March 2003 to October 2007, the S&P lasted 1,153 trading sessions without a 10% pullback.
So there's recent precedent for this kind of bull market. In fact, history is dotted with long rallies without a substantial correction. Since the S&P 500 index was created in 1928, there have been six rallies that have lasted longer than the current one (see chart below, courtesy of Bespoke).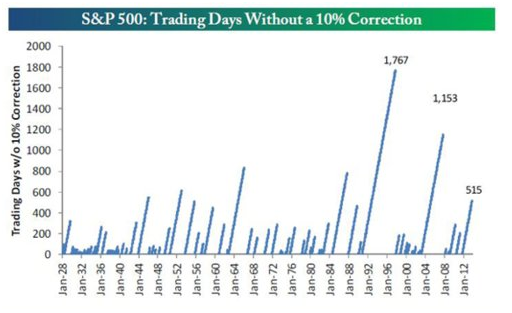 Given that history, perhaps a pullback isn't as imminent as many pundits would have you believe. All the elements are in place for a correction. The S&P 500 is trading at 19.4 times earnings right now, higher than at any point since January 2010. The benchmark U.S. index is on track for its best year in a decade.
Furthermore, U.S. GDP has slowed in recent months, another debt deadline is looming, and the Fed might not be far from pulling the plug on its accommodative monetary easing policy, which has made for a bullish investment environment. Those are other factors that suggest a pullback may be coming.
(...)Click here to continue reading the original ETFDailyNews.com article: Dow Jones Industrial Average: Why A 10% Pullback Isn't A Sure Thing
You are viewing an abbreviated republication of ETF Daily News content. You can find full ETF Daily News articles on (www.etfdailynews.com)
Related posts: