November 18, 2013 at 13:40 PM EST
5 Reasons Stocks Could Continue To Push Higher
INDEXDJX:.DJI, INDEXSP:.INX, NYSEARCA:SPY, NYSEARCA:DIA, DJI:DJI, CBOE:SPX, NQ:COMP, NY:XAX Related posts: 3 Reasons Stocks Could Move Significantly Higher World Markets, Metals Push Higher on Back of Abe Win 6 Factors That Will Push Silver Prices Higher S&P 500, Dow Jones Industrial Average: Fed Creating Print-Push Demand For Stocks Four Reasons Japan Could Continue To Be The Land Of The Rising Stock Market
Chris Ciovacco: Five Reasons Stocks Could Continue To Push Higher.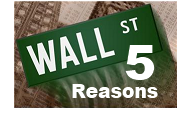 China's major policy shift
Concerns are not showstoppers
Tech bubble case not convincing
Fractals lean bullish
Fed providing liquidity
Policy Shift Turns Laggard Into Leader
Healthy and sustainable bull markets tend to lift all equity boats around the globe. As shown in the chart of the China ETF below (FXI), Chinese stocks struggled for the first six months of 2013. Last week's major announcement from Chinese leaders helped FXI push to a new five month high. From Reuters:
Investors rewarded Beijing on Monday for its ambitious reform plan, sustaining a stocks rally led by consumer goods shares seen as direct beneficiaries of the promised easing of China's one-child policy and efforts to boost consumption. Key onshore China stock indexes rose the most in more than two months, while China shares listed in Hong Kong were heading for their biggest daily percentage gains in almost two years in high volume trade.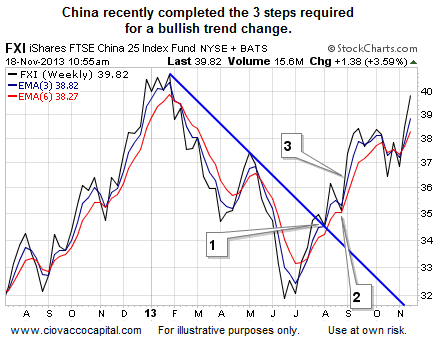 Myth Busters: Yeah, But Shouldn't We Be Concerned About…?
As stocks advanced off the October 9 low, the "reasons" to remain on the sideline have included "rallies not led by financials are unsustainable" and "Dr. Copper is waving red flags". This week's stock market outlook video contains a myth busters section, which provides hard evidence that some concerns are not necessarily rally killers.
After you click play, use the button in the lower-right corner of the video player to view in full-screen mode. Hit Esc to exit full-screen mode.

The Bubble Case Is Not Convincing
As we outlined in detail and supported with facts on November 12, the case that "we are in a bubble and everyone is in this market" does not hold water. If we focus on the NASDAQ, the differences are significant between the 2013 rally in technology stocks and the 1999 bubble rally. From The Wall Street Journal:
The tech-heavy index is poised to cross 4000 for the first time in 13 years, a development that has stoked concerns another tech-bubble is forming. But the Nasdaq nowadays has more dividend payers, fewer dot-coms and a more reasonable valuation, a nod to the evolution of an index once only known for tech and growth stocks. Currently, 51 of the top 100 Nasdaq stocks pay dividends. In December 1999, when the Nasdaq initially jumped above 4000, only nine companies paid dividends, according to stock-market research firm Birinyi Associates. The Nasdaq now trades at about 25 times the previous year's earnings, compared with 151 times trailing earnings in December 1999. Beyond dividends, there are other characteristics that show the differences between then and now. In 1999, there were 119 companies in the Nasdaq that had ".com" in their name. Now, there are 15. In 1999, stocks were in a bubble. Now, the evidence isn't as convincing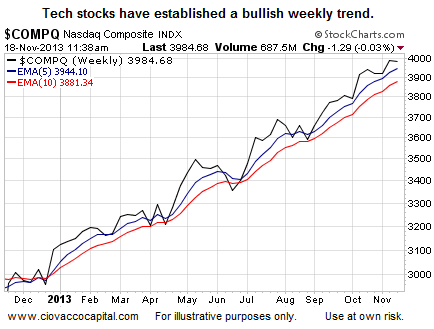 Breakouts Are Bullish, Right?
Charts allow us to monitor the battle between aggregate economic optimism and aggregate economic concerns.
(...)Click here to continue reading the original ETFDailyNews.com article: 5 Reasons Stocks Could Continue To Push Higher
You are viewing an abbreviated republication of ETF Daily News content. You can find full ETF Daily News articles on (www.etfdailynews.com)
Related posts: