November 22, 2013 at 12:56 PM EST
Dow Jones Industrial Average, S&P 500 Bearish Market Signals?
INDEXDJX:.DJI, INDEXSP:.INX, NYSEARCA:SPY, NYSEARCA:DIA, DJI:DJI, CBOE:SPX, NQ:COMP, NY:XAX Related posts: Dow Jones Industrial Average: Is The Market Tipping A Bearish Hand? Dow Jones Industrial Average: 4 Reasons To Respect The Bearish Case Dow Jones Industrial Average, S&P 500, and Nasdaq: 3 Different Signals A Bearish Sign For The Dow Jones Industrial Average Dow Jones Industrial Average: Several Bearish Indicators Showing Up
Chris Ciovacco: All Present Near Major Stock Market Tops.
Waning momentum
Bad breadth
Defensive credit markets
Central Banks Are Part Of Markets
Before we examine the bear market red flags that were waving in 2000 and 2007 and how they relate to 2013, it is important to acknowledge the role of central banks in the stock market's advance.

QE Is A Well-Defined Process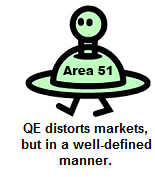 When we say markets are manipulated, we do not mean in an Area 51/government conspiracy manner. Any government intervention into any market distorts asset prices. For example, a tax credit for new home buyers impacts (distorts/manipulates) the price of housing. From an investment perspective, we must respect what QE is, understand how it works, and incorporate its impact into our assessment of the markets. Central banks have been manipulating markets well before most of us were born, and they will be manipulating markets after we are all dead. We do not have to like the Fed's role, QE, or any form of market intervention, but to be successful we must respect their undeniable impact on asset prices.
Momentum Speaks To Economic Conviction

The market's pricing mechanism, based on the aggregate opinion of every investor around the globe, allows us to compare economic confidence in late 2000 to the present day. If you prefer, a more direct way to say it is charts enable us to monitor the conviction that stocks will push higher relative to the conviction that stocks will fall. The aggregate investor opinion is based on the aggregate interpretation of the economy, earnings, Fed policy, etc. The previous sentence helps us understand the concept that the fundamentals are reflected in the charts.
Momentum indicators, like the widely used MACD, can be thought of as conviction indicators. When momentum is strong, conviction about positive economic outcomes is strong. Conversely, weakening momentum speaks to weakening bullish conviction about earnings, geopolitical events, monetary policy, and the global growth story. The monthly chart of the S&P 500 below shows momentum was waning as stocks pushed higher between mid-1999 and mid-2000. Weakening momentum (see thick red line) foreshadowed the 50%-plus decline in the S&P 500 (dot-com bust).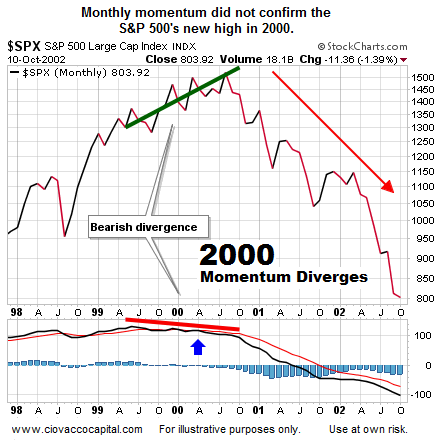 How does the same chart look today? The answer is much better. Instead of a bearish "non-confirmation", present day momentum is rising with price, which speaks to ongoing confidence about future economic outcomes, earnings, and Fed policy.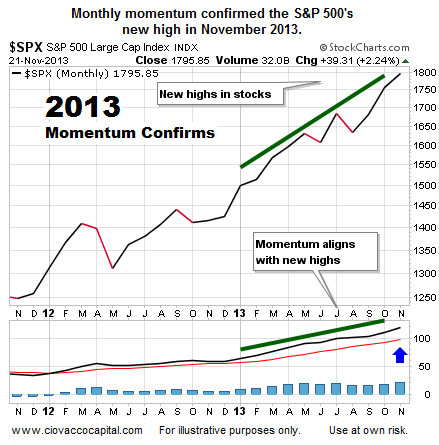 Bad Breadth Can Foreshadow Bear Markets

Market breadth speaks to the number of stocks participating in an advance.
(...)Click here to continue reading the original ETFDailyNews.com article: Dow Jones Industrial Average, S&P 500 Bearish Market Signals?
You are viewing an abbreviated republication of ETF Daily News content. You can find full ETF Daily News articles on (www.etfdailynews.com)
Related posts: