November 27, 2013 at 20:57 PM EST
NYSE:MY Enters Into 200MW EPC Wind Farm Framework Agreement With Speranta & Succesul S.A. in Romania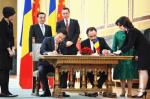 ZHONGSHAN, China, Nov. 27, 2013 /PRNewswire/ -- China Ming Yang Wind Power (NYSE: MY) ("Ming Yang" or the "Company"), today announced its subsidiary, Guangdong Mingyang Wind Power Group Limited, ("Guangdong Mingyang"), has signed a framework agreement (the "Agreement") with Speranta & Succesul S.A., a leading renewable energy developer in Romania. The Agreement covers wind farm development, supply of EPC services and equipment procurement of a 200MW wind farm project.
To view the multimedia assets associated with this release, please click:  http://www.multivu.com/mnr/64592-nyse-my-wind-power-farm-agreement-with-speranta-and-succesul-sa-in-romania 
(Photo: http://photos.prnewswire.com/prnh/20131127/MM24868)
Mr. Li Keqiang, Premier of the People's Republic of China and Mr. Victor Ponta, the Prime Minister of Romania attended the Agreement signing ceremony during the Second Summit between Chinese and Central and East European leaders in Bucharest on Monday, November 25th, 2013. The Agreement marks an important strategic milestone in the joint cooperation in connection with the energy project development between China and Romania. The total level of investment for this wind farm project is approximately EUR400 million, and the project is expected to utilize Ming Yang's innovative 2.0MW large rotor diameter wind turbine generators ("WTGs"). It is reported to be the largest Chinese WTG export order to date, according to the relevant industry news in China.
"Ming Yang is proud to be working with Speranta & Succesul S.A., and this Agreement marks an important milestone in Ming Yang's overseas expansion strategy," commented Mr. Chuanwei Zhang, Chairman and Chief Executive Officer of Ming Yang. "Ming Yang expects to leverage this opportunity in Romania as a base of expansion into Europe and intends to supply competitive wind power solutions to customers in the region."
For further information, please visit the Company's website: ir.mywind.com.cn  
SOURCE China Ming Yang Wind Power Group Limited