December 27, 2013 at 14:08 PM EST
Dow Jones Industrial Average, S&P 500: The Most Underappreciated Bullish Evidence
INDEXDJX:.DJI, INDEXSP:.INX, NYSEARCA:SPY, NYSEARCA:DIA, DJI:DJI, CBOE:SPX, NQ:COMP, NY:XAX Related posts: Dow Jones Industrial Average: When Everyone Is Bullish Dow Jones Industrial Average Rally Truly Bullish Or Just Debt Ceiling Relief? Dow Jones Industrial Average: How Much Damage To Bullish Case? Dow Jones Industrial Average and S&P 500: Charting The Breakout and Bullish Pathway Dow Jones Industrial Average: Market Bulls Getting Too Bullish
Chris Ciovacco: The internet has given consumers access to information and alternate distribution channels. A more informed consumer translates to stiff competition and lower margins for retailers. Taking a more optimistic view, consumers did buy more "stuff" this year. From Reuters:
Sales during the 2013 U.S. holiday season grew from a year earlier as deep discounting and increased promotions encouraged consumers to buy more. Holiday sales between November 1 and December 24 rose 2.3 percent, compared with 0.7 percent a year earlier, according to data published in the MasterCard Advisors' SpendingPulse report. This sales growth was the highest in three years. "It was actually a Merry Christmas for retailers," Sarah Quinlan, senior vice president at MasterCard Advisors, told Reuters, adding that jewelry was the best-performing category.
Under-Appreciated In October – Still Under-Appreciated For 2014
On October 21, with the S&P 500 trading at 1743, we presented the chart below as support for the "stocks could surprise on the upside" case. Since October 21, the S&P has surprised on the upside by posting a 100 point gain.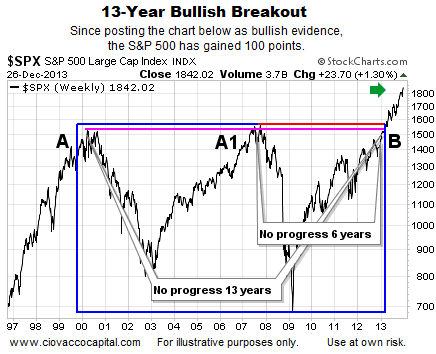 Over the last six months, many have stated "stocks are in a bubble". In the chart above, the stock market went nowhere between point A in 1999 and point B in 2013. In isolation, if you were told the stock market made no progress over a 13-year period that does not sound like a bubble. In fact, it sounds like a period of massive underperformance. The green arrow above shows the recent breakout from a 13-year consolidation period in the S&P 500. The two video segments below take the bubble vs. breakout debate a little further. After viewing the clips, you can decide for yourself.
This video clip covers the stock market's performance over the past six and thirteen years, placing it in historical context.
This clip covers the concepts of consolidation (indecision), fractals, and breakouts, which tell us to keep bullish scenarios on our 2014 probability radar.
Skeptical Investors Returning Slowly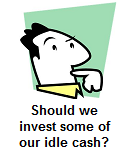 As we outlined in detail on November 12, an examination of hard trading data does not support the "everyone that wants to be in stocks is already in stocks" theory. From a December 26 Wall Street Journal article:
Despite growing signs that the economy is gaining steam and the relentless climb of stocks even after the Federal Reserve said last week it will shrink its monthly bond purchases, many investors still feel tepid about the overall stock market. Some analysts and money managers bet that further gains are ahead for the Dow and S&P 500 if individual investors continue returning to stocks, even slowly. With interest rates low, the economy expanding and the prices of many bonds and commodities having tumbled after a long rally, the case for stocks is stronger than for most alternatives, these bulls say.
Defensive Staples Lagging
This week's stock market outlook video highlighted weak demand for conservative consumer staples (XLP) relative to the broader S&P 500 Index (SPY). The evidence did not change between Sunday and Thursday's market close.
(...)Click here to continue reading the original ETFDailyNews.com article: Dow Jones Industrial Average, S&P 500: The Most Underappreciated Bullish Evidence
You are viewing an abbreviated republication of ETF Daily News content. You can find full ETF Daily News articles on (www.etfdailynews.com)
Related posts: