February 04, 2014 at 15:33 PM EST
How Much Further Could Stocks Drop?
INDEXDJX:.DJI, NYSEARCA:SPY, NYSEARCA:DIA Related posts: Get Ready To Pounce All Over Stocks [Dow Jones Industrial Average(INDEXDJX:.DJI), SPDR S&P 500 ETF Trust] Signs Point To A Terrible Year Ahead For Stocks [Dow Jones Industrial Average(INDEXDJX:.DJI), SPDR Dow Jones Industrial Average ETF] Market Correction Is Healthy For Stocks [Dow Jones Industrial Average 2 Minute(INDEXDJX:.DJI), SPDR Dow Jones Industrial Average ETF] Flexibility Important During Indecisive Periods [Dow Jones Industrial Average(INDEXDJX:.DJI), SPDR S&P 500 ETF Trust] GDP Q4 Advance Estimate: A Solid 3.2% [Dow Jones Industrial Average(INDEXDJX:.DJI), SPDR S&P 500 ETF Trust]
Chris Ciovacco: After seeing the S&P 500 shed 108 points from its recent peak to Monday's close, dip buyers jumped back into the water Tuesday. The 14 point gain Tuesday afternoon recaptured only 13% of the 108 points, meaning it is too early to say what the gains mean to investors with longer time horizons. From Reuters:
U.S. stocks bounced back on Tuesday, underpinned by sturdy corporate results. Monday's sharp decline, on the back of weaker-than-expected U.S. data, concerns over growth in China and the outlook for some emerging economies, opened the door for traders looking for bargains. Consumer and financial stocks were leading the gains on the S&P 500.
We Can't Fall Much Further, Can We?
The tone on Twitter seems to favor the theory of "we have dropped 108 S&P 500 points in the last three weeks….it must be time to buy…right?" That may or may not be the case; only time will tell, but before we jump blindly back into the equity lake it is prudent to understand how long corrections can last. One of the best ways to test your investing contingency plans is to examine extreme cases in history, which is what we will do in this article. The S&P 500 recently broke below its relatively-flat 50-day moving average, which tells us the intermediate-term trend is in doubt. As of February 4, the S&P 500 had traded below the 50-day for eight sessions.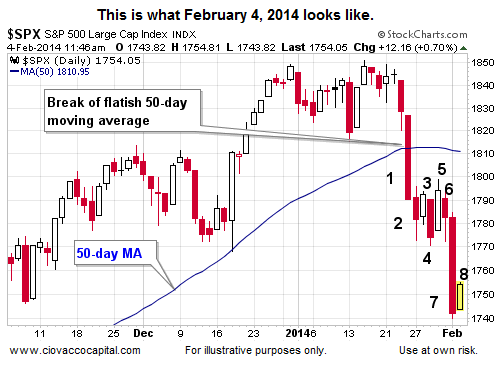 Charts Help Monitor Interpretation Of Fundamentals
Our analysis below uses charts. Does that mean the fundamentals do not matter? Absolutely not. The interpretation and perception of present day economic activity, earnings, Fed policy, etc. are what drive the charts and determine asset prices. The charts help us monitor the present day "read" on all the fundamental data, which aligns with the expression the fundamentals are captured in the charts. Fundamentals and people determine asset prices; not charts. Charts are a monitoring mechanism.
Concerns About 2014 Fundamentals
The weakness showing up on the 2014 charts is the result of numerous economic concerns, including weakness in emerging market economies. From Bloomberg:
Emerging-market stocks fell, extending the worst start to a year on record, on concern the global economic recovery will wane. Lenovo Group Ltd. drove a selloff in technology companies after five analysts downgrades. About $2.9 trillion has been erased from equities worldwide this year after manufacturing gauges in the U.S. and China, the world's biggest economies, signaled a slowdown at a time when the Federal Reserve is cutting stimulus. All 10 groups in the benchmark measure for emerging-market stocks retreated today, led by technology, industrial and consumer shares.
Study Looked At Worst Cases
Our study began in 1987 and looked for similar violations of a flattish 50-day moving average.
(...)Click here to continue reading the original ETFDailyNews.com article: How Much Further Could Stocks Drop? [Dow Jones Industrial Average(INDEXDJX:.DJI), SPDR S&P 500 ETF Trust]
You are viewing an abbreviated republication of ETF Daily News content. You can find full ETF Daily News articles on (www.etfdailynews.com)
Related posts: