This story out of Syria has legs and will continue until the pot boils over ... and it's a continuation of what North Africa nations did during their uprisings – they shut down the Internet. Syria is banning a device that records history as it happens.
The Los Angeles Times is reporting that the Syrian government is banning the use of the Apple iPhone to prevent activists from "documenting the ongoing uprising in that country and government violence against protesters."
"Activists in Beirut were notified of the iPhone ban in a letter from the Syrian Finance Ministry that reads, "The authorities warn anyone against using the iPhone in Syria," according to reports from the Haaretz newspaper in Israel and the U.S. website the Next Web (which quoted the Lebanese site El Nashara).
Advertisement - story continues below
Syrian protests began last Jan. 26 with an increasing number of opposition groups calling for political reform and the ouster of President Bashar Assad. Since then, civil and human rights groups have been using smart phones and other devices to document photos and video online of the government's violent response to their actions.
"The United Nations has said that more than 4,000 people have been killed in Syria since major protests began in March, and fears of civil war have arisen as well," according to the Los Angeles Times.
TRENDING: Report: Capitol cop who shot Babbitt is in hiding
Ria Novosi, a Russian news site is reporting that protest groups have built and distributed an iPhone app, called Syria Alone, that offers independent news reports and "a collection of videos and jokes" mocking Assad.
The irony? Steve Jobs, founder of Apple and the iPhone, was adopted at birth. His biological father is Syrian. More details here.
Advertisement - story continues below
The digital path to the past
Would you be interested in a social network that is more exclusive and private than Facebook? The opposite of online openness "in which people routinely broadcast the details of their lives to friends and strangers alike?"
A former exec at Facebook and Apple is gambling on it with a new smart phone app named Path, a digital vehicle to record memories that return users to times and places they've been before. The path to the past, as it were.
Dave Morin and Dustin Mierau describe it as a "smart journal" for the smart phone, kind of a daily diary used to record places you've been and people you've met.
Advertisement - story continues below
Here's your "path" to find out more about the iPhone and Android app.
YouTube makes big changes
YouTube is becoming more like TV, adding a channel format to streamline its content and make it easier for you to find what you're interested in. From its blog page comes news that in addition to its announcement last month of more video channels, sports highlights, dance competitions, make-up tutorials, science experiments and great movies are being added all the time. YouTube boasts over three billion views per day by last count, and is organizing them with channels, a new appearance, and "a fresh coat of digital paint."
Here are three ways these updates will improve your YouTube experience.
Advertisement - story continues below
Do you go online for no reason?
The Pew Research Center's Internet & American Life Project has done a study that finds that on any given day, 53 percent of 18 to 29 year-olds go online "just to have fun or pass time."
Just 12 percent of those over 65 say they went online the previous day for no particular reason. Of those aged 50 to 64, the study found 27 percent answered yes to the same question. Read the results of more interesting surveys: The Internet as a diversion and destination; Why Americans use social media, and more.
Has Twitter finally figured out how to make money?
Advertisement - story continues below
For a long time, Twitter seemed unable to match its phenomenal growth with its ability to earn revenue. It could now be those days are over. In an interview with the San Francisco Chronicle, Twitter's Chief Revenue Officer Adam Bain said Twitter is rolling out a self-service advertising platform, offering self-service ads to a "handful of businesses." Twitter's move in that direction is the same path taken by Google that resulted in its legendary online revenue success.
According to the Internet research firm eMarketer, "Self-serve ads accounted for about 60 percent of Facebook's estimated global advertising revenue of $3.8 billion this year."
Twitter also has now partnered up with Mixi, the largest home-grown social network in Japan, expanding the micro-blogger's reach.
Help Wanted: U.K. needs code crackers now
Advertisement - story continues below
Crack this code and you could be hired!
Electronic hacking is a huge problem for just about everyone, especially corporations and government agencies. In an effort to fight back against the proliferation of hackers, a British electronic listening agency is hiring hackers!
GCHQ launched an online campaign to reach computer "geeks" who have "a keen interest in code breaking and ethical hacking." Applicants literally have to crack a code within a certain amount of time in order to apply for the job. If they do crack it, they're directed to continue to the application process. GCHQ anticipates hiring 35 cyber security experts for the job, which pays around 25,000 pounds ($39,000).
And if you're not a hacker but an engineer, Facebook might also be looking for your help.
Advertisement - story continues below
In a related story, here's a company that hacks the hackers! Mykonos Software, a two-year-old firm has developed products that detect hackers and steers them into "virtual tar pits, slowing progress as they unwittingly reveal information that can be used to stop, identify or prosecute them."
Is three years too long to patch a security flaw?
A flaw contained in an Apple iTunes software update installed on more than 250 million machines worldwide "allowed government spying for three years" according to a published report.
The British company Gamma International sold Finfisher, a remote spying Trojan to Germany and Egypt governments, who then exploited the vulnerability to spy on intelligence targets' computers and mobile phones.
Advertisement - story continues below
Though Apple was told in 2008 about the iTunes flaw, the company did not patch the software until earlier this month, a delay of more than three years, well beyond its average of 91 days.
Amazon making "Cyber Monday" a month long sales event
Deals, deals, deals ... you'll find them online. Amazon is calling it a month long Cyber Monday with its Flurry Deals. Both Apple and Amazon lead tech sales on Black Friday. But Monday was the biggest online shopping day ever.
Meanwhile, guess what folks bought more of on Black Friday? If you said "guns," you'd be right. The FBI's National Instant Criminal Background Check records show that a record number of Americans bought guns on the day after Thanksgiving.
Advertisement - story continues below
Opposing Views reported, via Free Republic, the FBI's National Instant Criminal Background Check System (NICS) showed that Nov. 25, 2011, had the most background checks for firearm purchases in a single day (129,166) with a 32-percent increase over the previous NICS high on November 28, 2008, the same month of the 2008 Presidential election.
Federal law requires FBI background checks on all individuals purchasing firearms from federally licensed retailers.
Web usage-based billing on way
Cable bigs are mulling a "Netflix tax." If you're using a cable system like Time Warner or others, you will soon be paying for those movies and TV episodes you're watching on Hulu, Netflix or YouTube.
Advertisement - story continues below
"As more video shifts to the Web, the cable operators will inevitably align their pricing models," according to one analyst. "With the right usage-based pricing plan, they can embrace the transition instead of resisting it."
According to a published report, "Time Warner Cable and U.S. pay-TV companies, weighing how to profit from surging Internet demand spurred by Netflix and Hulu, are on the verge of instituting new fees on Web-access customers who use the most data."
"Cox Communications, Charter Communications or Time Warner Cable may be first to charge Web-access customers for the amount of data they consume, not just transmission speed," it's reported.
13 days with George Washington
Advertisement - story continues below
In last week's Surfin' Safari, we told you about the Twitter account @RealTimeWWII, which features up to 40 tweets each day, covering the major political and military events of World War II as though they were happening now in the age of Twitter.
This week we've found another for you: "I am Josiah Teasdale; hired by James Rivington to be embedded with Gen. George Washington and report impartially on his rebellion."
This one tweets two weeks of events that occurred during the height of the Revolutionary War. It's @NYGazetteer, at hashtag TweetingGW, tweets from a "reporter" embedded with George Washington, across the Delaware and into the Battle of Trenton.
Read the full backstory.
Advertisement - story continues below
When you don't want to friend?
How do you tactfully avoid accepting a Facebook Friend request? You could ignore it. Or politely reject them with an explanation. Here are more suggestions from the mavens of netiquette etiquette.
Google Maps now brings indoor floor plans to your phone
Google Maps for mobile users now maps indoor spaces, including major airports and giant retailers like Macy's and Bloomingdale's. Google launched Maps 6.0 for Android last Tuesday. The new mobile Maps version allows you to see the entire layout of a building. Google has partnered with more than 25 major businesses to provide the indoor maps to their establishments.
Advertisement - story continues below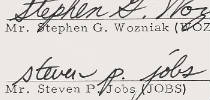 Original Apple contract going to auction
 What am I bid for this original Apple contract signed by Steve Jobs and Steve Wozniak?
Smart phones and concerts
We wrote about this some time ago in Surfin' Safari, but it bears repeating: If you're headed to a live concert, here's what you should and shouldn't do with your smart phone.
Advertisement - story continues below
Facebook settles FTC charges over 2009 privacy breaches
Under the terms of a settlement with the Federal Trade Commission, Facebook has agreed to undergo a third-party privacy audit every two years for the next 20 years.
This action settles a lengthy complaint from the FTC that says Facebook misled members about its use of their private data. According to the FTC, Facebook "deceived consumers by telling them they could keep their information on Facebook private, and then repeatedly allowed it to be shared and made public."
Read what Facebook founder Mark Zuckerberg says about the settlement and Facebook's commitment to privacy.
Advertisement - story continues below
Bits & Bytes
The Time Capsule
1792 – George Washington re-elected president
Advertisement - story continues below
1941 – Japan attacks Pearl Harbor, declares war on Britain, United States
1941 – Germany, Italy declare war on United States
1977 – Egypt's Sadat cuts relations with Arab hardliners
1978 – Spain to vote for democracy, end dictatorship
Advertisement - story continues below
1980 – John Lennon shot dead outside New York City apartment
1988 – Singer Roy Orbison dead at 52
Now playing at the Princess Theater, Urbana, Ill.
Congratulations to WND readers Larry Brooks of Sunnyvale, Calif., and Valerie Davis of Westlake, Ohio, who were among the first to correctly guess actor Natalie Wood in her portrayal of the character Maria in the 1961 film "West Side Story," winner of ten Oscars.
Advertisement - story continues below
The quote was: "All of you! You all killed him! And my brother, and Riff. Not with bullets, or guns, with hate. Well now I can kill, too, because now I have hate!"
The movie selection was tied to last week's Time Capsule event marking the 30th anniversary of Natalie Wood's drowning off Santa Catalina Island.
This week's quote: "Old Rock of Ages, we've got ourselves another war. A gut bustin', mother-lovin,' Navy war."
Name the movie, the actor and the character. Send your answer to me at the email address below. Please be sure to add your town and state. Good luck!