This week, "America's sheriff," Joe Arpaio, and I filed an amicus, that is a "friend of the court" legal brief before the U.S. Supreme Court, challenging the executive orders of President Barack Hussein Obama that involve granting amnesty to over 5 million illegal aliens, many of whom are his "fellow Muslims." Sheriff Arpaio has not specifically targeted illegal-alien Muslims for deportation in the amicus brief we filed, but frankly, that will be the natural consequence if President Obama's executive orders allowing for this amnesty are overturned. I therefore write my own views in this column – which square with the views of millions of other Americans who are finally coming out of the woodwork.
These Muslims, as Donald Trump and others like myself have expressed, represent a grave threat to the national security, safety and well-being of all Americans. Whether they are actual or latent terrorists, or just – as is regrettably usually the case – sympathetic to the Islamic cause and its worldwide caliphate under their false god allah, these Muslims have no legal or other right to be here if they are not already citizens. And, that is notwithstanding that the Islamic religion and Muslim culture, in my opinion and the opinion of others who dare to speak the truth publicly, is simply not compatible with a nation founded on Judeo-Christian values and roots. To the extent they can be kept out of this country, this must be done. We are at war with Islam. If we don't recognize that fact, our fate will soon morph into the disastrous fate of Western Europe, where Muslims have overrun their societies. In the demonstrated wake of past and present terrorist attacks in London, Madrid, Paris and now Brussels, the continent is on the verge of going up in Islamic flames.
And, it is not just terrorist attacks that are at issue. In Germany, for instance, hundreds of women have been sexually molested by hordes of Muslim refugee men from Syria and elsewhere throughout the Middle East. No wonder – under Muslim Shariah so-called law, women have little to no rights and can be treated as chattel, if not trash. Put simply, the Muslim culture is degenerate and cannot exist side by side with Jews, Christians, Hindus and other legitimate religions in a civilized society.
Advertisement - story continues below
The "Holy Quran," as our Muslim president calls it, teaches and instructs Islamic followers of allah:
"Lo! Allah hath bought from the believers their lives and their wealth because the Garden will be theirs: they shall fight in the way of Allah and shall slay and be slain. It is a promise which is binding on Him in the Torah and the Gospel and the Qur'an. Who fulfilleth His covenant better than Allah? Rejoice then in your bargain that ye have made, for that is the supreme triumph."
TRENDING: Lone officer races to 'shots fired' call, gets jumped after he arrives as crowd laughs and films
"Then, when the sacred months have passed, slay the idolaters wherever ye find them, and take them, and besige them, and prepare for them each ambush. …"
"Fight and slay the Pagans, seize them, beleaguer them, and lie in wait for them in every stratagem" "for them (the unbelievers) garments of fire shall be cut and there shall be poured over their heads boiling water whereby whatever is in their bowels and skin shall be dissolved and they will be punished with hooked iron rods."
Advertisement - story continues below
"Slay them wherever ye find them and drive them out of the places whence they drove you out, for persecution is worse than slaughter."
Yes, the "Holy Quran" of our Muslim president helps not only explain his refusal to associate Islam with terrorism here, in Europe and worldwide, but also his "open door" policy on executive amnesty for illegal aliens. Obama would obviously like to see Muslims infiltrate and overrun our Judeo-Christian nation. They are his brothers and sisters, and in Obama's mind this is just "peachy keen."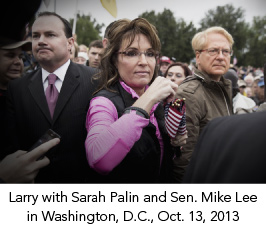 A few years ago, standing with presidential candidate Ted Cruz, Gov. Sarah Palin and Sen. Mike Lee, during the government shutdown, when Obama spitefully barred military veterans from visiting the recently built World War II Memorial, I stood up to speak before these veterans on a cold rainy day. Metaphorically, facing the Lincoln Memorial where the civil rights icon Rev. Martin Luther King has eloquently given his "I Have a Dream Speech" in the early '60s, I called for a peaceful non-violent revolution using civil disobedience a la King. Speaking from my heart on "auto-drive," I challenged our Muslim president, tongue in cheek, to get up off his knees, put the Quran down and come out with his hands up. My "satire" ignited a spark and was nationally televised, eliciting at least two weeks of non-stop coverage and leftist pro-Muslim commentary. The tea party, for which I am credited with having being a primary catalyst, and I were vilified and trashed on the pro-Obama leftist cable networks MSNBC and CNN.
It is ironic, indeed, that a few years later, my controversial satire is no longer satire, but sad recognizable reality. And, with all that is at stake – allowing illegal Muslim and other immigrants to remain in this nation by executive Obama fiat – We the People have to rely for now on the Supreme Court to nullify Obama's lawless and unconstitutional amnesty. With the high court one conservative vote short – given the mysterious if not "Obama convenient death" of Justice Antonin Scalia – let us all pray that Obama's executive amnesty will still be struck down. For if it is not, peaceful civil disobedience, as I urged on the National Mall that rainy day before the World War II memorial, will likely soon turn physical, and not by our doing.
Advertisement - story continues below
As in Europe at this moment, the non-Islamic citizenry have had it with politicians who have opened their societies up to Muslim sexual assault and potentially nuclear, chemical and biological terrorism and mass murder. European leaders such as Germany's Chancellor Angela Merkel and Belgium's Prime Minister Charles Michel will soon be shown the door at the ballot box. But the push back will not stop there, leaving behind hordes of non-Islamic European citizens who increasingly are taking matters into their own hands.
In short, if the Supreme Court does not throw out the Muslim in Chief's executive amnesty, expect similar violent reaction soon coming to our shores.
Media wishing to interview Larry Klayman, please contact [email protected].

Advertisement - story continues below