What would Joan Rivers (allegedly) say about Rob Porter?
Until her untimely death, the iconic comedienne was a personality that had somehow lived on into our post-personality era.
Until his #MeToo ex-wives began baying for his blood, Mr. Porter, as good as dead politically, was President Trump's White House staff secretary.
Advertisement - story continues below
If the irreverent Rivers were alive today, she'd most certainly joke about Porter, the man upon whom America's deranged matriarchy has descended:
"They should rehire Rob Porter. He is now the most vetted man in the world."
TRENDING: WATCH: James O'Keefe put on 'SSSS' list for extra screening on flights
"No wonder Porter didn't punch his new paramour, Hope Hicks. Did you see what a knockout she is?"
In the true sense of the word, a personality is an individual with an originality and a distinctness of character and thought – a definition that precludes every member of the joyless matriarchy hammering away at the foundations of a civilized, Anglo-American society: the notion that a man defamed in the court of public opinion has the right to defend himself and confront his accusers; that there are often at least two sides to a story, and that relationships are complex and reciprocal, irreducible to the rigid, one-sided scripts enforced by vicious and vindictive womenfolk.
Advertisement - story continues below
Or, "peoplefolk," as Prime Minister Justin Trudeau would say. Included among America's malevolent matriarchy are legions of domesticated menfolk. But the liliths, especially, faces contorted, are those screeching at us from the television daily. They want White House Chief of Staff John Kelly gone. For he is alleged to have covered for Porter, calling him "a man of true integrity." Now Porter's wives swear he is a potential O. J. Simpson.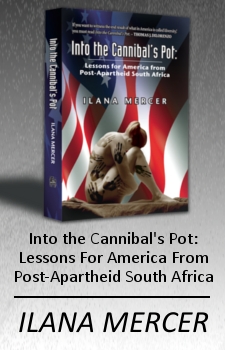 Order columnist Ilana Mercer's brilliant polemical work, "Into the Cannibal's Pot: Lessons for America from Post-Apartheid South Africa"
---
Kelly is a retired United States Marine Corps general. His son, 1st Lt. Robert Michael Kelly, was killed in Afghanistan, in 2010. While President Barack Obama had not called Gen. Kelly to offer condolences, President Trump did phone the parents of four young men lost under his leadership, in Niger, in October of 2017.
For his inarticulate but well-meaning effort, the president came under vicious attack from Frederica Wilson, congresswoman for life, it would seem, from South Florida. A Maxine Waters with a cowboy hat.
Advertisement - story continues below
"All hat and no cattle," quipped Sarah Huckabee Sanders, deliciously. The White House's press secretary walked away unscathed. But a "good old white boy" like Kelly dare not assign a black matriarch like Wilson to "the long tradition of empty barrels making the most noise." In the course of defending the president, this honorable, old-school soldier recounted some of Wilson's more vulgar displays as a public official, thus making more enemies among the matriarchy.
Yes, the good general has done Deplorables many a good turn. White House officials are purported to be discussing the departure of Ivanka Trump and Jared Kushner later this year, a development for which Kelly deserves gratitude. And while the duo derisively dubbed by Stephen Bannon as "Jarvanka" keeps regrouping, Kelly has greatly limited La Familia's access to the Oval Office.
And that's a good thing.
Better than good. Whether Deplorables admit it or not, the two New York liberals, a nepotistic appendage to the Trump administration, have been a disaster for the plank President Trump promised and for which Deplorables voted.
Advertisement - story continues below
Indeed, the reasons the left and its media megaphones seldom attack Ivanka are: 1) The president's daughter is one of them – a politically correct liberal, and 2) Ivanka is not a white male – also the reason Hope Hicks, a 29-year-old former model recruited by Ivanka, evades scrutiny for her serial love affairs with staff members (Corey Lewandowski preceded Rob Porter) and for her lack of gravitas.
So why is Gen. Kelly, so far, just the kind of leader we want in the White House? Let us continue to count the ways:
An honorable and wise American, Kelly stood up for another such man:
"Robert E. Lee. was an honorable man," said Gen. Kelly. How dare he! And how right he was. The matriarchy maligns him, but Lee was a great American.
"When Lee resigned his commission as the colonel of the 1st U.S. Cavalry in April 1861 and subsequently took command of the state forces of Virginia, and eventually of the armies of the Southern Confederacy, he was only acting to 'fight for his state, which 150 years ago was more important than country.'"
Another truism for which Kelly cannot be forgiven by the left: He correctly claimed "some immigrants didn't sign up under DACA because they were 'lazy.'"
Kelly was expected to explain that Dreamers failed to partake of the American legislator's generosity because of dominant-culture oppression and for fear of white, male chauvinists like himself. It is the matriarchy's Marxist article of faith that all character flaws exhibited by an ostensibly oppressed class of people (Dreamers) are the fault of their designated (American) oppressors. "Foreva," as the hip-hop rapsters say.
Nevertheless, as much as he is disliked by a media morphed into a Trump Scandal Watch, I suspect that if Chief of Staff John Kelly is ousted, it will be the doing of the Goldman-Sachs West-Wing matriarchy.
Dina Powell, former adviser to Ivanka and now on Trump's National Security Council, is a relic from Goldman Sachs and an Ivanka recruit. The affable Democrat Gary Cohn, Trump's chief economic adviser, is former president and chief operating officer of Goldman Sachs. These "Kushner-Cohn Democrats" ousted Stephen Bannon from the West Wing, and are, no doubt, gunning for John Kelly.