He who believes he has a right to another man's property ought to produce proof that he is its rightful owner. "As the old legal adage goes, 'Possession is nine-tenths of the law,' as it is the best evidence in our uncertain world of legitimate title. The burden of proof rests squarely with the person attempting to alter and abolish present property titles." (From " Into the Cannibal's Pot: Lessons For America From Post-Apartheid South-Africa".)
It is to this potent principle that democratic rule in South Africa has taken an axe – or, rather, an assegai.
Here is how taking land legally currently works in South Africa, a place the U.S. State Department has only just lauded as "a strong democracy with resilient institutions. …," a country merely "grappling with the difficult issue of land reform." "Land reform," of course, is a euphemism for land distribution in the Robert Mugabe mold.
Advertisement - story continues below
The process currently in place typically begins with a "tribe" or group of individuals who band together to claim vast tracts of private property.
If these loosely and conveniently conjoined groups know anything, it's this: South Africa's adapted, indigenized law allows coveted land, owned and occupied by another, to be obtained with relative ease.
TRENDING: Blessing Israel, saving America
See, the country no longer enjoys the impressive Western system of Roman-Dutch law it once enjoyed. Lax law and poorly protected property rights signal a free-for-all on the lives of white owners and their livestock.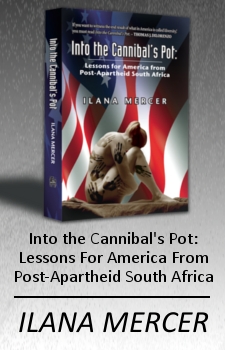 Order columnist Ilana Mercer's brilliant polemical work, "Into the Cannibal's Pot: Lessons for America from Post-Apartheid South Africa"
Advertisement - story continues below
---
No sooner does this newly constituted "tribe" (or band of bandits, really) launch a claim with the South African Department of Rural Development and Land Reform, than related squatters – sometimes in the thousands – move to colonize the land.
They defile its grounds and groundwater by using these as one vast toilet; and terrorize, sometimes kill, its occupants and their animals in the hope of "nudging" them off the land.
Dr. Philip du Toit, a farmer (with a doctorate in labor law) and author of "The Great South African Land Scandal," speaks of recurrent attacks on farm animals that "hark back to the Mau Mau terror campaign which drove whites off Kenyan farms."
Farmer's Weekly used to be packed with pitiful accounts of cows poisoned with exotic substances, battered with heavy metal bars, writhing in agony for hours before being found by a distraught farmer.
Advertisement - story continues below
"Encroachment is the right word," a farmer told du Toit. "They put their cattle in, then they cut the fences, then they start stealing your crops, forcing you to leave your land. And then they say: 'Oh well, there's vacant land, let's move on to it.' It's a very subtle way of stealing land."
"When there is a farm claim I say 'Look out!' because attacks may follow to scare the farmers," confirmed the regional director of the Transvaal Agricultural Union (TAU).
Agri SA, an organization representing small and large-scale commercial farmers, reports the annual theft of hundreds of thousands of priceless livestock.
The ANC's old Soviet-inspired Freedom Charter promised this: "All shall have the right to occupy land wherever they choose." And so they do today.
Advertisement - story continues below
Because of legal claims they are powerless to fight, squatters whom they cannot fend off, and cattle, crops and families which they can no longer protect, farmers have already been pushed to abandon hundreds of thousands of hectares of prime commercial farmland.
"Since the end of apartheid in 1994, when multi-racial elections were held," wrote Dan McDougal of the London Times, millions of "acres of productive farmland have been transferred to black ownership. Much of it is now lying fallow, creating no economic benefit for the nation or its new owners."
South Africa has become a net importer of food for the first time in its history.
"My visit to Mpumalanga came immediately after crossing the frontier from Zimbabwe," attests Aidan Hartley, also of the Times, "and what struck me was how similar the landscapes were after redistribution had taken place. Once-productive maize fields now grow only weeds. Citrus orchards are dying, their valuable fruit rotting on the branches. Machinery lies about rusting. Irrigation pipes have been looted and farm sheds are derelict and stripped of roofing. Windbreak trees have been hacked down and roads are potholed."
Advertisement - story continues below
Dr. du Toit has traversed the "beloved country" from the Limpopo to the Cape, from Natal to the North West to document the transfer and consequent trashing of the country's commercial farms.
Without exception, splendid enterprises that fed the country many times over have been reduced to "subsistence operations with a few mangy cattle and the odd mealie patch." (Mealie is Afrikaans for "maize," deriving, apparently, from the Portuguese word milho.)
In even the best-case scenario, farms belonging to the whites who feed the country and produce surpluses are being handed over to subsistence farmers who can barely feed themselves.
Now, it's about to get worse – unless a superhero comes to the rescue. President Cyril Ramaphosa's government is denying it, but the South African press reports that "the first two farms have been targeted for unilateral seizure."
Advertisement - story continues below
If anyone can make the thuggish African National Congress and its leader, Ramaphosa, reconsider their plot to simply steal privately owned land from whites and gift it to the clamoring black citizens of South Africa – it's President Donald Trump.
Another superhero, Fox News broadcaster Tucker Carlson, has served as the catalyst. Tucker got the American government, in the person of Donald Trump, to respond to indisputable crimes against humanity underway for decades against rural white South Africans.
President Trump's resolve to sic Secretary of State Mike Pompeo on the case is possibly the first impassioned, official American reaction to what a genocide expert has been warning about.
Dr. Gregory H. Stanton has placed South African "whites and Boers" in these stages of genocide: classification (number 1), symbolization (2), polarization (number 6 in 10).
Classification of whites as "the Other" has occurred. And attendant symbols of this hatred have been developed and are part of the culture. To wit, in the new, highly polarized South Africa, there is a renewed appreciation for the old slogan, "Kill the Boer, kill the farmer," chanted at political rallies and funerals.