Once upon a time there were two politicians.
One had the power to give media and political elites goosebumps. Still does.
The other causes the same dogs to raise their hackles.
Advertisement - story continues below
The first is Barack Hussein Obama; the second Vladimir Putin.
The same gilded elites who choose our villains and victims for us have decided that the Russian is the worst person in the world. BHO, the media considers one of the greatest men in the world.
TRENDING: More lies about the Jews and the land of Israel
Obama leveled Libya and lynched its leader. Our overlords were unconcerned. They knew with certainty that Obama was destroying lives irreparably out of the goodness of his heart.
Same thing when Obama became the uncrowned king of the killer drone, murdering Pakistani, Afghani, Libyan and Yemeni civilians in their thousands. That, too, his acolytes generally justified, minimized or concealed.
Advertisement - story continues below
In June of 2008, Obama marked his election as "the moment when the rise of the oceans began to slow and our planet began to heal; the moment when we ended a war and secured our nation and restored our image as the last, best hope on Earth." Media did not mock their leader's delusions of grandeur.
All the estrogen-oozing amoebas of mainstream media would do in response to the Obama charm offensive was to turn to one another and check, "Was it good for you? Did he make the earth move and the oceans recede for you, too?"
Recently, Obama romped on to the Third World stage "bigly." He delivered an address in this writer's birthplace of Johannesburg, South Africa. The occasion: the centennial commemoration of Nelson Mandela's birth.
On that occasion, Obama praised "the liberal international order," which is founded on inverted morality: Good is bad and bad is good.
Small wonder, then, that nobody – broadcaster Tucker Carlson excepted – was willing to shame Obama for lauding genial thug Cyril Ramaphosa as an inspiration for "new hope in [his] great country."
Advertisement - story continues below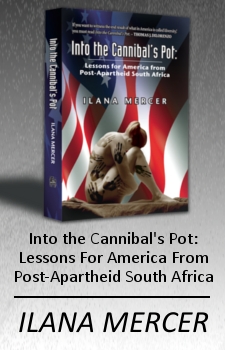 Order columnist Ilana Mercer's brilliant polemical work, "Into the Cannibal's Pot: Lessons for America from Post-Apartheid South Africa"
---
President hope-and-change Ramaphosa has gone where his four peer predecessors had not dared to go. He led a wildly fruitful effort to tweak the already watered-down property-rights provision in the South-African Constitution. Theft of land owned by whites will now be permitted.
Other than their modern-day-messiah status, BHO and his hero Mandela share something else. Both were silent about the systematic ethnic cleansing and extermination, in ways that beggar belief, of South African farmers in particular, and whites in general.
Advertisement - story continues below
Does the barefaced Barack care that white men, women and children are being butchered like animals, their bodies often displayed like trophies by their proud black assassins?
An example among thousands is Kaalie Botha's parents: "You can't kill an animal like they killed my mom and dad. You can't believe it." The Achilles tendons of Kaalie's 71-year-old father had been severed by his assailants so he couldn't flee. He was then hacked in the back until he died, his body dumped in the bush. The head of wife Joey had been bashed in by a brick, wielded with such force that the skull "cracked like an egg."
A day in the life of farming South Africa.
Yet, there was Mr. Obama touting the new South Africa as the instantiation of the ideals promoted by Mandela.
Mind you, Obama might be on to something, in a perverse way. As stated, Mandela was mum about these killings, labeled genocidal by the expert Dr. Gregory H. Stanton.
As for "Madiba's" fidelity to the cornerstone of civilization, private-property rights: In September of 1991, "Mr. Mandela threatened South African business with nationalization of mines and financial institutions unless business [came] up with an alternative option for the redistribution of wealth"
Had he lived to 100, Mandela would likely be cheering Ramaphosa for authorizing a free-for-all on white-owned private property.
You know who's not ignoring or minimizing those ongoing attempts at extermination and immiseration in South Africa? President Putin.
Russia has purportedly offered to give shelter to 15,000 white South African farmers, so far, recognizing them for the true refugees they are.
But Mr. Putin must be a racist. At least that's what the cruel and craven African National Congress (Mandela's party) dubs any nation daring to succor white South Africans. The very idea that black Africans would persecute white Africans is racist in itself, say South Africa's ruling Solons.
In fact, the ANC regularly intervenes to set aside findings made by Refugee Boards across the West in favor of South Africa's endangered minority.
Putin, of course, has a history of such "racism." Take his "unhealthy" fixation with saving Christians in Syria. Yes, that community is thriving once again because of the Alawite and Russian alliance.
True to type, "racist" Russia is now looking out for the Afrikaner settlers of South Africa.
In 2011, when "Into the Cannibal's Pot: Lessons for America From Post-Apartheid South Africa" was published, there were approximately 40,000 commercial South African farmers who remained on the land of their ancestors. Minus about 3000 slaughtered.
The total number of commercial farmers who feed South Africa is now less than half the number of "refugees" the U.S. takes in each year. To date, "there has been a trickle of South Africans applying for asylum in the United States on the grounds of racial persecution. Almost all have been deported."
It should be news to no one that American refugee policies favor the Bantu peoples of Africa over its Boers.
As Obama would drone, "It's who we are."
Whichever way you slice it, on matters South Africa, Russia is the virtuous one.