Adroitly, President Trump has optimized outcomes for the American worker. His is a labor market like no other.
Long overdue in the U.S., a labor market is one in which firms compete for workers, rather than workers competing for jobs.
"For the first time since data began to be collected in 2000, there are more job openings than there are unemployed workers." By the Economist's telling (July 12, 2018), "Fully 5.8 million more Americans are in work than in December of 2015."
Advertisement - story continues below
Best of all, workers are happier than they've been for a long time.
Not so business. For American business, it's never enough.
TRENDING: Biden admin battling in court to force pediatricians to perform trans surgeries on kids
Big or small, business is focused on elephantine-like expansion.
Big and small, business is nattering about labor shortages: "Ninety percent of small businesses which are hiring or trying to hire workers report that there are few or no qualified applicants, according to the National Federation of Independent Business."
Advertisement - story continues below
With blaring headlines, the megaphones in the financial press are amplifying a message of dissatisfaction:
"The shortage is reaching a 'critical point.' … A lack of applicants for blue-collar jobs such as trucking and construction has received particular scrutiny, as have states like Iowa where the unemployment rate is especially low (it is just 2.7 percent in the Hawkeye state)."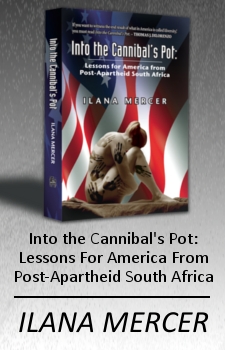 Order columnist Ilana Mercer's brilliant polemical work, "Into the Cannibal's Pot: Lessons for America from Post-Apartheid South Africa"
---
Aug. 31 saw President Trump sign an executive order meant to further
boost
Advertisement - story continues below
small businesses. These will be permitted "to band together to offer 401(k)s."
Again, nice, but not enough. It never is. A businessman present piped up about "a very tight labor market … causing us a little bit of a problem."
Contrast this gimme-more-forever-more attitude, with the patriotic perspective of your average Trump supporter: "I'm willing to take my lumps for the good of the country," a farmer told broadcaster Laura Ingraham. "The Scottish in me says to the death."
Look, a labor market allows wages to rise and productivity to grow, for unprofitable firms will soon fold when they find they can't pay enough to attract workers. Scarce resources – labor and capital – are then "put to better use."
More crucially, wage gains accrue "to the poorest workers." As the neoliberal, Trump-hating Economist notes, "Full-time employees at the 10th percentile of the income distribution are earning almost 4 percent more than a year ago."
Advertisement - story continues below
Beware; the good times may be short-lived. Trump's response was Pavlovian. He promised the bitching businessman to "start looking at, very seriously, merit-based immigration. We have to do it, because we need people." Read: We don't have enough fabulous people among a labor force 160-million strong.
This is the conditioned response corporate America has come to expect from Power. Business wants the world as its labor market, because? Fill in the blanks, dear reader.
For its part, government cares a great deal about outsized sectional interests and GDP (gross domestic product) numbers, as churned out by number-crunchers.
But, surely prosperity is about per capita growth as well, and – dare I say? – the wealth and health of local communities.
We know that multinationals – stateless corporations; "global beasts with vast balance-sheets" – are preoccupied with increasing value for shareholders. However, that and training American talent are not necessarily mutually exclusive.
What's so wrong with making fellow Americans part of the success story? This may slow economic growth, but may increase its sustainability; make it the kind of growth around which authentic, organic communities can coalesce.
And what's wrong with doing well enough with the labor available in the country? Or, with a view to training American talent? Or, with a mind to paying more for local labor?
As it stands, business is permitted to petition the State to import the world at a price heavily subsidized by disenfranchised American taxpayers.
By extension, the attitude of business toward economic growth is rooted not in healthy, community-based practices (stateside and abroad), but in some aberrant economic gigantism, in an economic elephantiasis undergirded by greed.
Fair enough: Small business wants to be big when it grows up. But let us not confuse the metastatic multinational, motivated by mammon alone, with a business whose growth is sustained by communities, as opposed to colonies of imported labor.